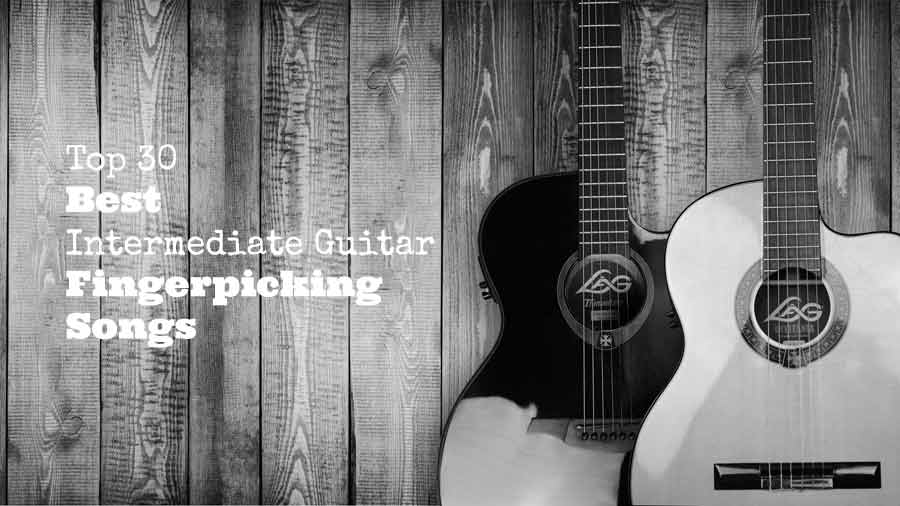 There's something hypnotic and soothing about playing fingerpicking songs. Beautiful melodies and harmonies are all integrated in fingerstyle arrangements. Once you're in the flow of fingerpicking you can play on and on and on. A perfect moment to forget about everything and just be one with your guitar.
Of course, in order to get there you first have to practice. But also practicing in itself is a joy. Overcoming the obstacles and challenges in a fingerpicking song can be really exhilarating. The hard work pays off and gives you a song to play for the rest of your life.
Guitar playing is a win-win situation. You play for yourself but you also make other people happy if you play for them. Fingerpicking is just magical.
If you're a beginner, here's a Top 20 Easy Guitar Fingerpicking Songs For Beginners.
But today we have 30 beautiful fingerpicking songs for the intermediate guitar player. From pop fingerpicking hits to classics and golden oldies.
Each song title contains a YouTube link to the original song. The "TABS" and "ORIGINAL TABS" will give you the tablature notation for the song.
Pick one and start your practice session now 🙂
Enjoy!
1 – Blackbird – Paul McCartney – TABS – ORIGINAL TABS
2 – The boxer – Simon and Garfunkel – TABS – ORIGINAL TABS
3 – Tears in heaven – Eric Clapton – TABS – ORIGINAL TABS
4 – Every breath you take – The Police – TABS – ORIGINAL TABS
5 – Never going back again – Fleetwoodmac – TABS – ORIGINAL TABS
6 – Dust in the wind – Kansas – TABS
7 – More than words – Extreme – TABS – ORIGINAL TABS
8 – Landslide – Fleetwoodmac – TABS – ORIGINAL TABS
9 – Good Riddance – Greenday – TABS – ORIGINAL TABS
10 – Fire and rain – James Taylor – TABS – ORIGINAL TAB
11 – Let it go – James Bay – TABS
12 – Stop this train – John Mayer – TABS – ORIGINAL TABS
13 – Leaving on a jet plane – John Denver – TABS – ORIGINAL TABS
14 – Stairway to heaven – Led Zeppelin – TABS – ORIGINAL TABS
15 – Bloom – The Paperkites – TABS
16 – Nothing else matters – Metallica TABS – ORIGINAL TABS
17 – Just Breathe – Pearl Jam – TABS
18 – Safe and sound – Taylor Swift ftr. The Civil Wars – TABS – ORIGINAL TABS
19 – Tenerife sea – Ed Sheeran – TABS – ORIGINAL TABS
20 – Street spirit – Radiohead – TABS – ORIGINAL TABS
21 – Road trippin' – Red hot chili peppers – TABS – ORIGINAL TABS
22 – Homeward bound – Simon and Garfunkel – TABS – ORIGINAL TABS
23 – Shape of my heart – Sting – TABS
24 – Yesterday – The Beatles – TABS – ORIGINAL TABS
25 – I won't give up – Jason Mraz – TABS – ORIGINAL TABS
26 – Let her go – Passenger – TABS
27 – Classical Gas – Mason William – TABS – ORIGINAL TABS
28 – Silent Lucidity – Queensryche TABS – ORIGINAL TABS
29 – You've got a friend – James Taylor – TABS – ORIGINAL TABS
30 – I see fire – Ed Sheeran – TABS – ORIGINAL TABS
via GUITARHABITS http://ift.tt/2sPW5gZ